Fraser Place Shekou, Shenzhen is nestled on the hillside overlooking Shekou's exclusive entertainment district. Winner of the prestigious US LEED Design award for environmental friendliness award. Fraser Place Shekou sets the standard in Shenzhen Apartment Hotel Architecture.
This Shenzhen Hotel Apartment is within walking distance of major commercial buildings such as Time Plaza, Offshore Petroleum Building, the Financial Centre, Park N Shop Supermarket, 7-Eleven convenience store, and the entertainment belt.
Fraser Place Shekou has 232 luxurious apartments comprises of studio, one-, two-, three-bedroom apartments to four-bedroom penthouses.
Shenzhen is one of China's first special economic zones. Due to its close proximity to Hong Kong, it is one of China's most economically advanced cities. Shenzhen has also become China's major export production base. Perched atop Nanshan Hill, Fraser Place Shekou, Shenzhen faces the Shenzhen Gulf and Yuanlang in Hong Kong. Guests can enjoy a panoramic view of the coast lined with rows of coconut trees. This Shenzhen Apartment is located in the largest premier residential area in Whale Garden and surrounded by the commercial administration area at Guishan Road in the heart of Shekou. It is adjacent to Shekou's financial district and is easily accessible from Gongye Road, one of the major artery roads of Shekou.
Fraser Place Shekou enjoys great proximity to the Shekou Passenger Pier Shenzhen and the Baoan International Airport, which are both 5 and 45 minutes ride away respectively.

Location: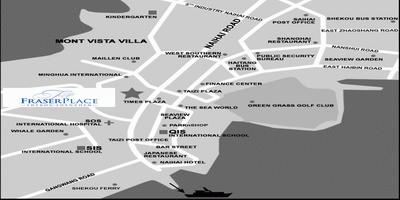 (click to view larger version)